This theme isn't finished yet, but here's what I have so far:
(note: currently missing icons for FF/RW/Pause/Stop)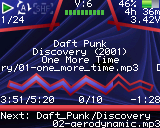 download
This theme displays, from top left to bottom right:
Play / Pause / FF / RW / Stop icon
Repeat Mode: All, Shuffle, 1, or Off
Shuffle on/off
1/24 -- current/total track numbers
V:6 -- volume (-73 to +6)
46% -- battery status
4h 36m -- battery time remaining
3.42V -- battery voltage
Daft Punk -- song artist
Discovery (2001) -- song album and year
One More Time -- song title
Discovery/01-one_more_time.mp3 -- song path
(zig-zag thing) -- playback progress
3:51/5:20 -- elapsed/total song time
0/10 -- song rating (when implemented)
-1:28 -- remaining song time
Next: -- next song path
I've been meaning to do something with the volume and battery graphics. Maybe someday. :)
All of these themes are Copyright (C) Selene Scriven, licensed to the world under a Creative Commons Attribution 2.5 License.
---
This work is licensed under a
Creative Commons Attribution 2.5 License
.